Tapio Wirkkala IIttala "Kantarelli" (Chanterelle) Vase designed in 1946. Extremely rare vase. This is a numbered and signed example from the first two runs of 50 produced.
Made in different sizes this being a large version at 9" tall and 6" in diameter at its widest point. Each line is individually etched to achieve an incredible finish.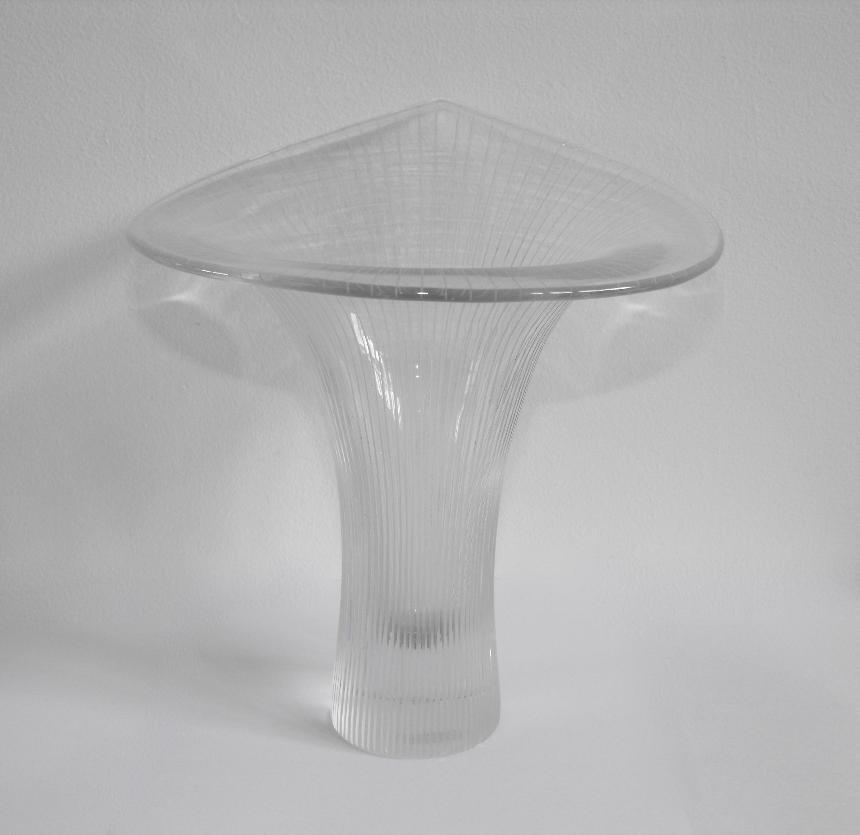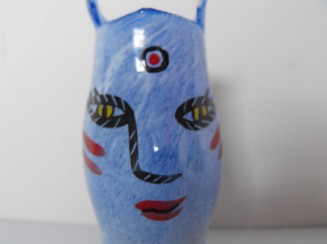 A Kosta Boda open minds blue vase by Ultrica Hydman-Vallen. These vases are available in a variety of designs and sizes. The one pictured is a small version from the series.

Below is a Riihimaen Lasi Oy "Taalari" Bowl in Emerald Green by Tamara Aladin..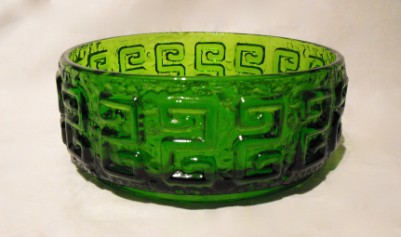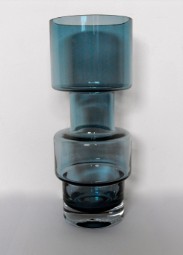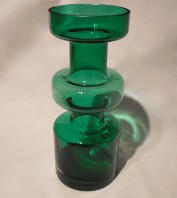 Riihimaen "Cog" vase in Green above and left a "Camshaft Vase in Smokey Blue.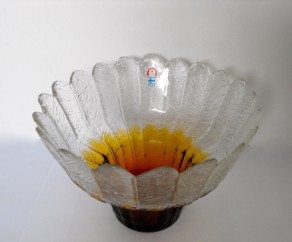 Humpilla Lasi Glass natural pattern bowl with original production sticker.

Jacob Bang Holmegaard Piggy Bank.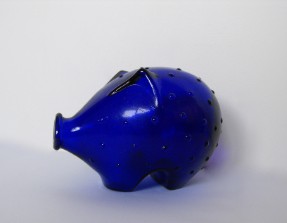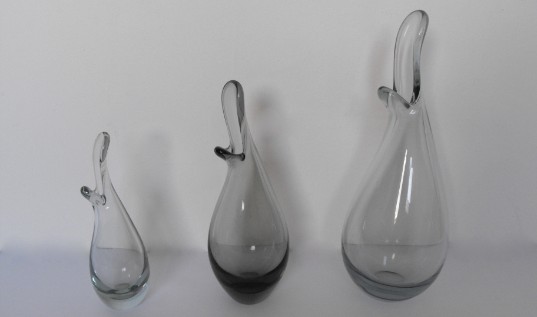 Holmegaard Per Lutken designed beak vases. The three here are in colours green tint, smokey, and blue tint.

Riihimaen Lasi Piironki Vase By Helena Tynnel, part of the country house series of vases. Original sticker still attached.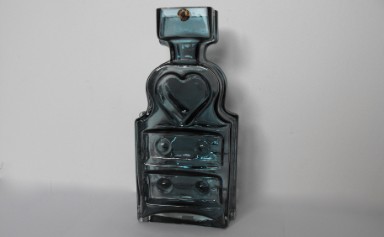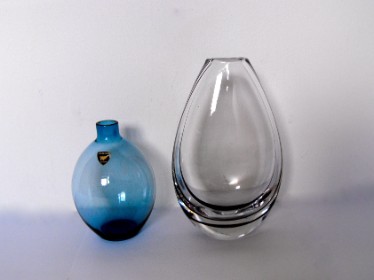 Left is a blue Orrefors bulbous vase in smokey blue designer unknown. Right is a Kosta Boda Vicke Lindstrand vase with internal fine lines of purple. Signed and pattern numbered to base.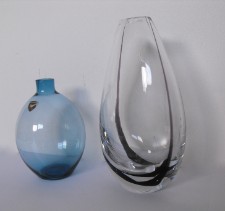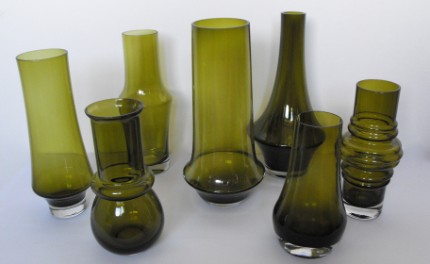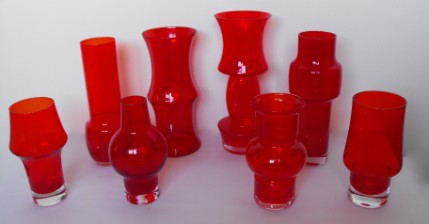 A selection of Riihimaen Lasi Oy vases by various designers. The pieces on the left are in Olive green and above in Ruby.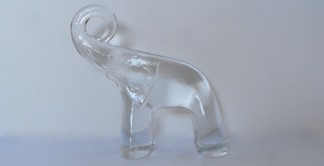 Kosta Boda Elephant from the animal series designed by Eric Hoglund.

Riihimaen Lasi Oy Torpedo. Small size of the two patterns produced. The sticker still attached was only placed on exported pieces.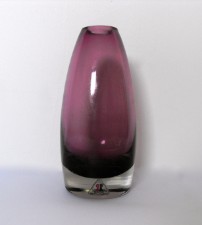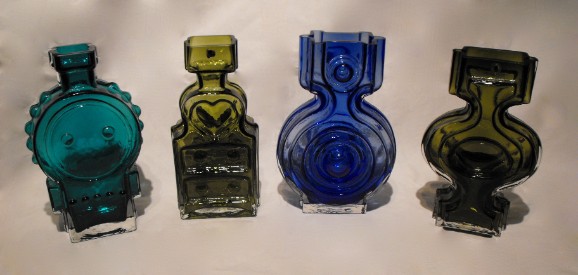 Four Riihimaen Lasi Oy Vases from the "Vanha Kartano" Country House collection. From left, "Ahkeraliisa" ("Busy Lizzy"), "Piironki", "Aitan Lukko" and Emma.

Below are the same vases from the country house collection, all in clear full lead crystal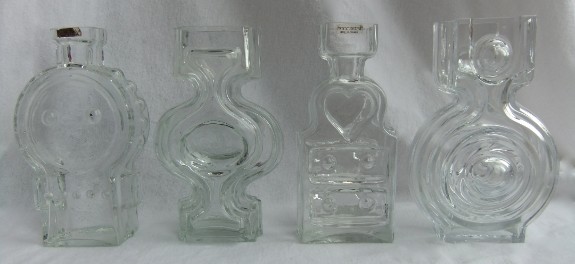 Inspired by a Finnish children's TV cartoon this decanter is from the Riihimaen Lasi Oy "Pikku Matti" or "Little Matt" collection. This decanter is of the "Grandfather" character. Available in clear and blue colours. Two other characters were available. Grandmother and Little Matt.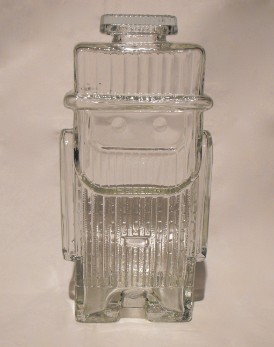 Riihimaen Lasi "Stella Polaris" bottle designed by Nanny Still in petrol blue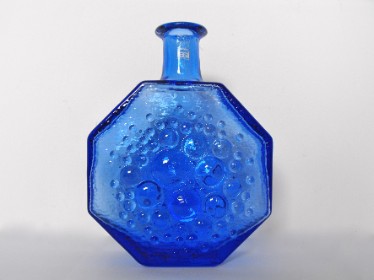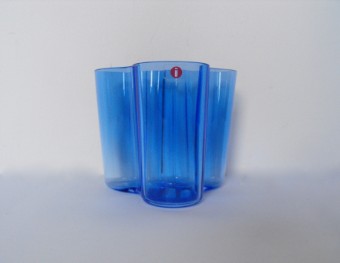 Alvaro Aalto for Ittala vase in petrol blue. These vases are still in production today.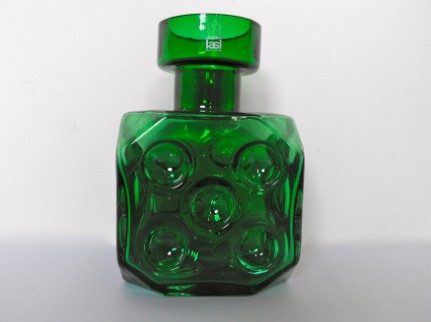 Erkkitapio Siiroinen designed dice vase in green for Riihimaen Lasi Oy.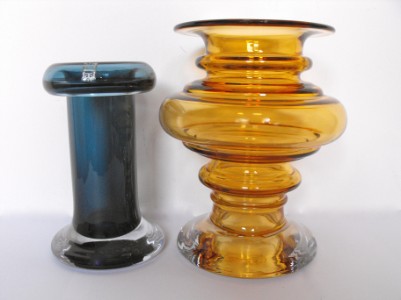 Riihimaen Lasi Vases from a series by Tamara Aladin. The Vase on the left in blue is a "Tornado vase" with the vase on the right in Amber a "Huricane". These vases were produced in several slight pattern variations.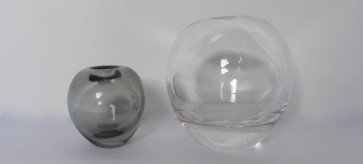 Holmegaard "Rondo" Vases in smokey small and clear medium.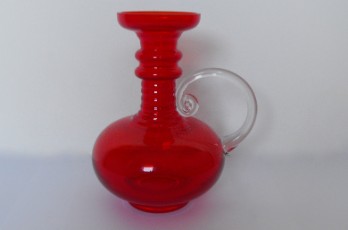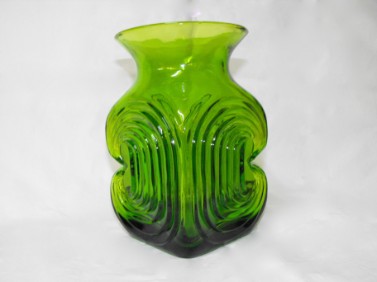 Left is a Riihimaen Lasi Oy Amuletti Vase designed by Tamara Aladin.

"Kleopatra" Vases By Tamara Aladin above in Ruby and below in green.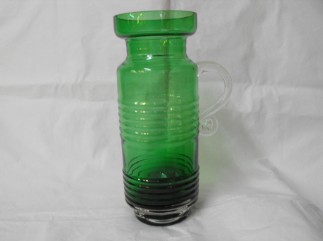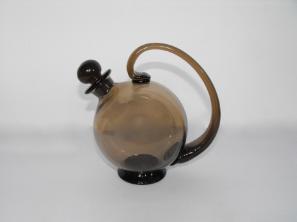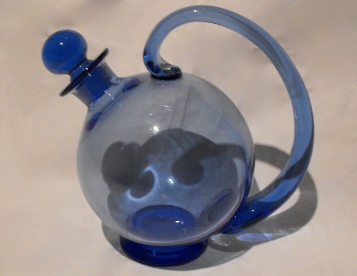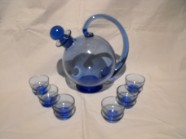 Holmegaard Decanter and glasses designed by Jacob Bang in the 1930s. Produced in two colours Brown and Blue. The Above and Left blue is extremely rare.

Holmegaard Christmas Decanter with two matching shot glasses. Produced every Christmas and widely sold. This edition is for Christmas 1994.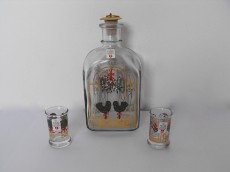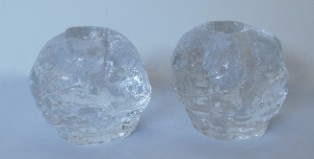 Two Kosta Boda snowballs. Smallest of the pattern and still in production today.

Two Holmegaard Suncatchers produced by impressing tools and objects into the molten glass. The designer of these is unknown. The two examples are Grey 7" and Clear 6" in size. We also have a 4.75" Grey example.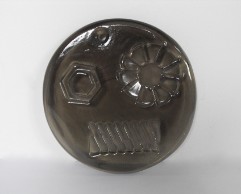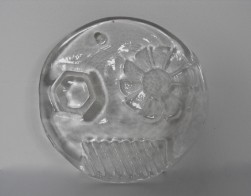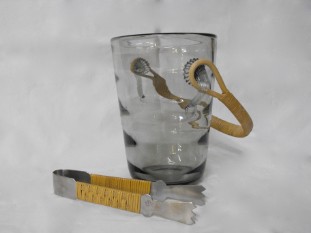 Holmegaard Ice Bucket and Ice Grips designed by Per Lutken. The handle is made from bamboo and the piece is signed by Per Lutken to the base.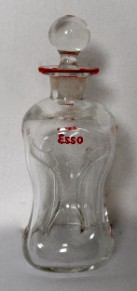 Very Rare Holmegaard Bang designed "Kluk Kluk" Decanter. They were named this after the sound which they make when pouring liquor from it. The pictured example is very rare as it was only ever given to ESSO employees when they were working in Denmark.

A set of 3 "Kumela Lasi" Chimney vases with spacial patterns around the side. These vases were often given as gifts to mark a special even. They have a solid gold or brass band around the top which could be engraved to mark the event they were given for. Designed by Pentti Sarpaneva (brother of Timo Sarpaneva, one of the most popular glass designer from Finland)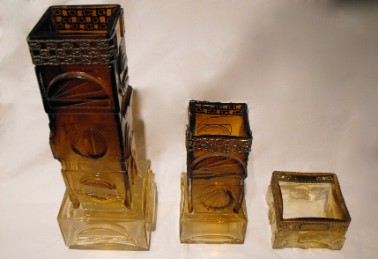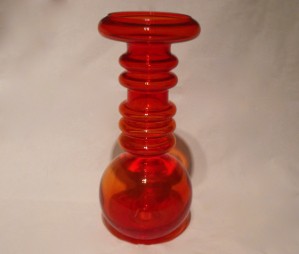 A Tamara Aladin "Carmen" Candle stick. The one pictured is in Ruby and is actually being stood upside down. It could also double as a vase when not being used as a candle stick. Available in a variety of colours and patterns.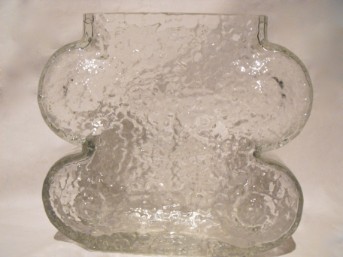 Riihimaen Lasi "Nebulosa" Vase designed by Nanny Still in the 1960s. The one pictured is in the clear glass but others have been produced in Orange and also a very rare green.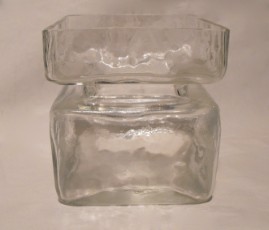 A Riihimaen Lasi "Pala" Vase designed by Helena Tynell.

Mold blown Riihimaen Lasi textured vase designed by Tamara Aladin.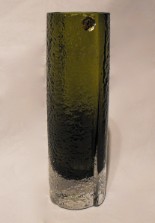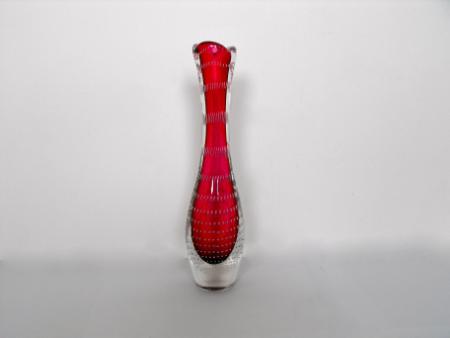 Above is an Orrefors controlled bubble vase. 10" tall and by the designer Vicke Lindstrand it is a stunning piece catching the light beautifully. Available in Yellow and also one in an extremely rare blue colour.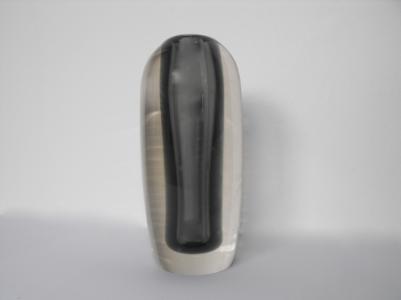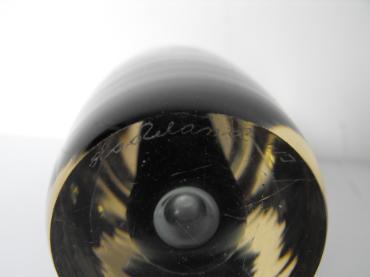 Extremely rare Willy Johansson "Rocket Vase" signed by the man himself. Willy hardly ever signed anything as he was a big believer in only signing his very very best work. Produced in 1957 this version is in the rarer un-frosted clear cased style.

Four Nuutajarvi Nostjo Birds in a variety of shapes and sizes. The birds are all signed to the base by designer Oiva Toikka.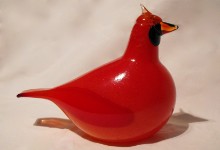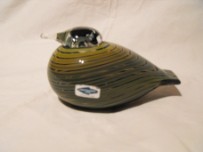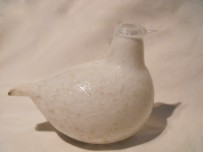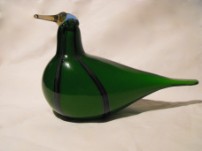 Tapio Wirkkala designed vase for Iittala. Tapio Wirkkala designed most of his pieces to look like naturally occurring patterns and shapes. The vase pictured in part of an Ice Series which he created.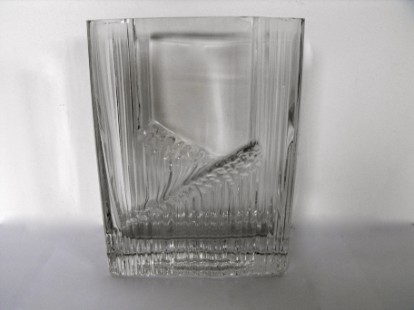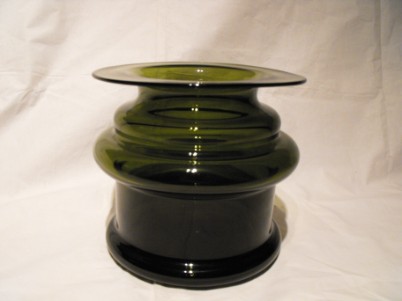 A Timo Sarpaneva for IIttala, Novitas vase produced in the 1960s. The vase is signed "TS" underneath. Several sizes and similar shapes were designed and produced .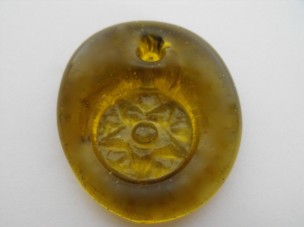 Above is a Holmegaard necklace or pendant. These are made in much the same way as the suncatchers, impressing the pattern into the molten glass piece. The hole would have had a leather hanging strap attached. Available in a variety of colours and designs.

Riihimaen Lasi Oy "Kera" vase in green. Produced in two sizes 8" and 10" tall and a variety of colours. There is also a set of candle stick holders which were produced in the same design.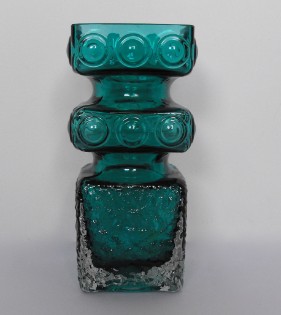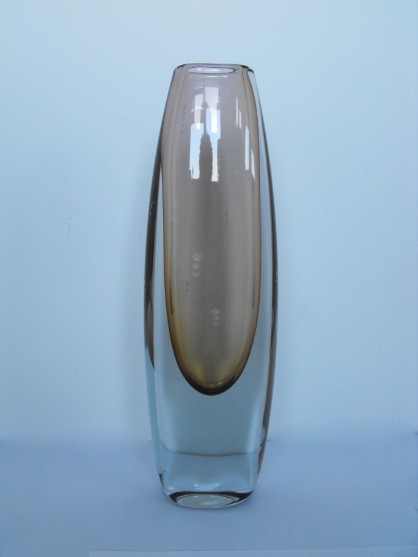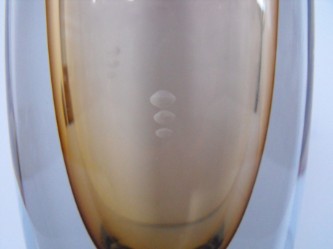 Above. Gunnar Nylund vase for Strombergshyttan Sweden. Wonderfully clear casing and gorgeous internal cased colour. Left is the full vase 10" tall and above is the delicate slicing which decorates the exterior of the piece. The internal colour appears to change slightly as it nears the top from gold to a tinge of pink.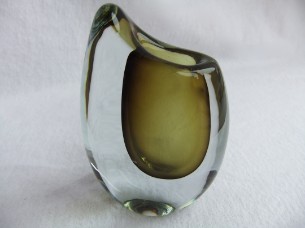 Above is another Stromberg piece. Sharks tooth fully signed to the base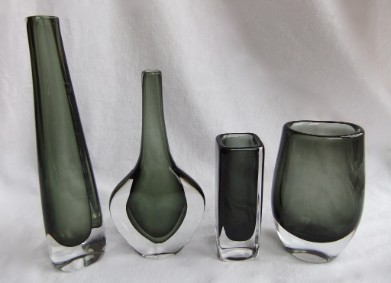 A collection of Orrefors Dusk series vases by Nils Landberg. All signed to base and pattern numbered. Available in different shapes and sizes. Some of these pieces are available in a very rare aubergine colour.

A Riihimaen Lasi Apollo Lamp designed by Nanny Still. These came with a clear base which had a metal burner attachment. The shades where then available in a variety of colours, Green, Red and Clear.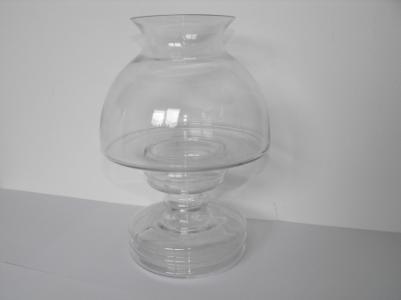 Orrefors signed and etched vase with boy collecting flowers.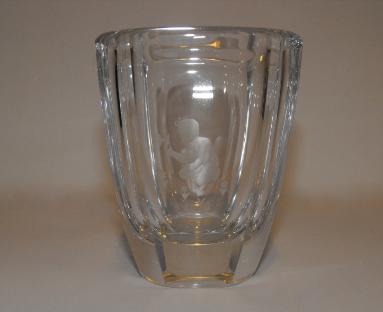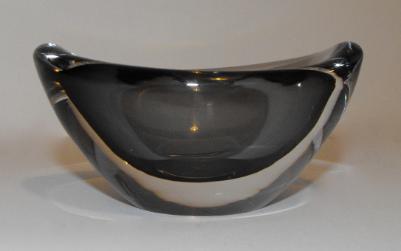 An Orrefors signed Sven Palmqvist Bowl. Made in a variety of sizes this piece was hand finished and worked.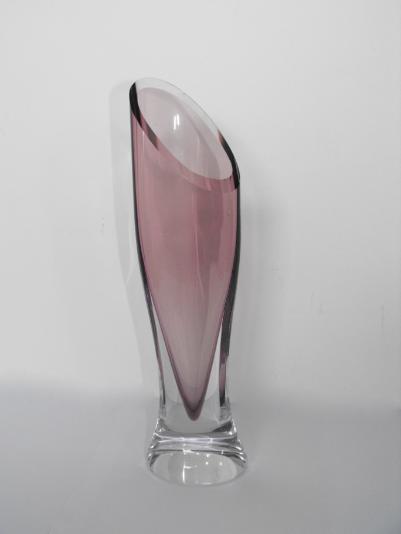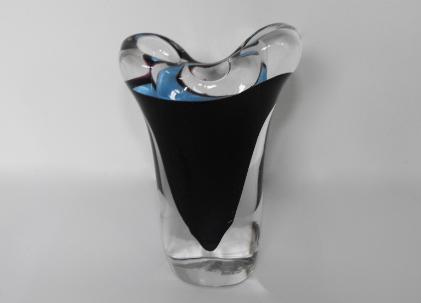 Above is a studio art glass sculptured vase by Paul Kedelv for Rejimyre Glass works Sweden. This one has Purple and Blue glass core cased in FLC.
Left is a signed Flygsfors vase by Paul Kedelv 11" in height.

Below is a Holmegaard Greenland series bottle in cased blue. These are becoming harder and harder to find as they are often mistaken as modern pieces and just thrown out.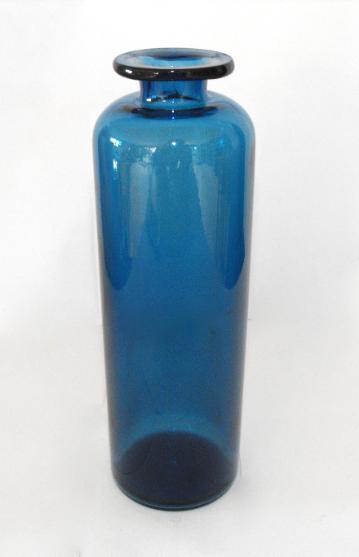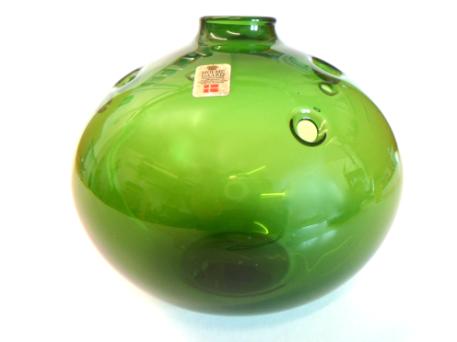 Signed Michael Bang bulbous vase. The piece has several holes around it allowing you to place single flowers in an arrangement one in each hole.

.............................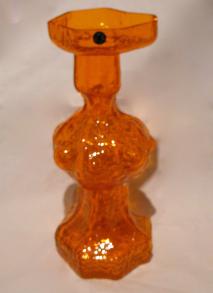 A Riihimaki Candida Vase designed by Nanny Still.

A Kosta Boda Fish deigned by Vicke Lindstrand. Signed to base, these were available in variety of sizes.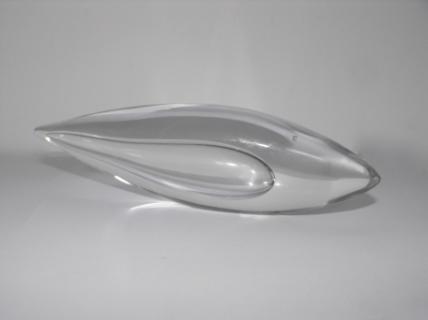 Below is a Riihimäen lasi, Nanny Still, Quadrifolia vase in clear FLC. A very rare vase and available in 3 colours. Orange, Green and Clear.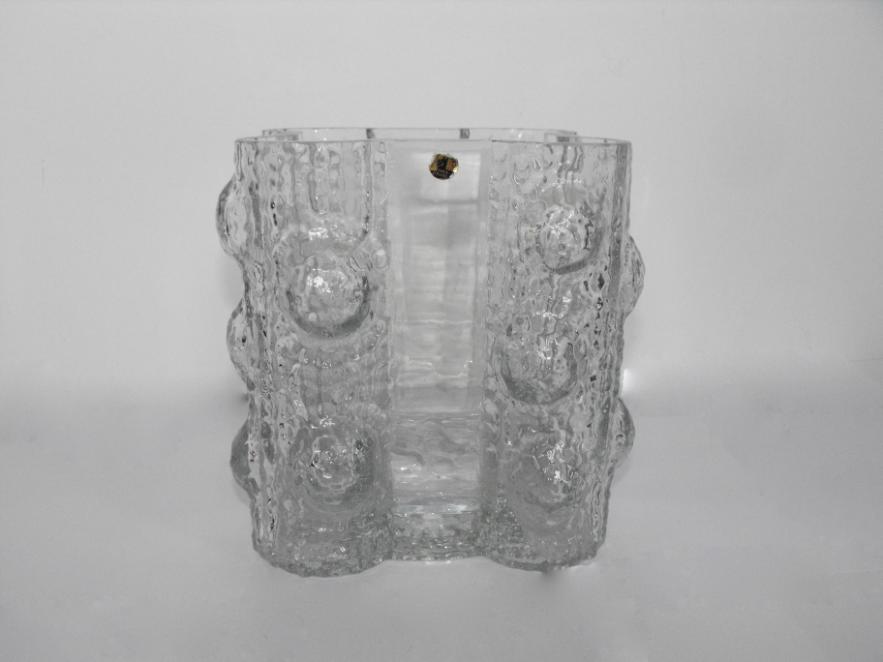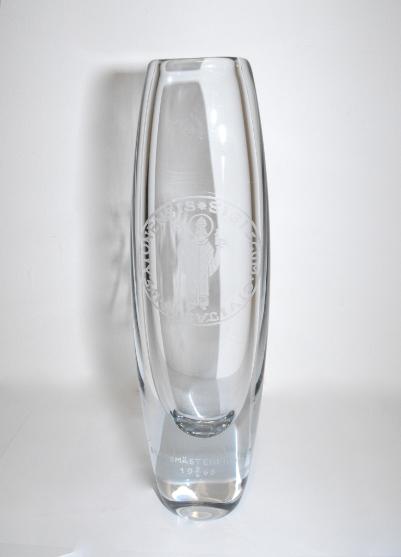 A signed Stromberg Vase designed by Gunner Cyrun. This particular vase depicts an etched bishop and inscription underneath. After some research I found out that the piece was a retirement gift for a Dean of a Swedish university in 1968.

Below is a Nanny Still Harlekini Drinking Set produced by Riihimaen Lasi Oy. The Harlekini series of table ware is extremely hard to find and sort after.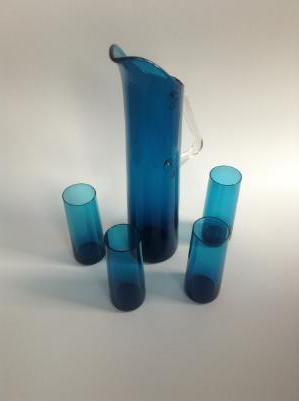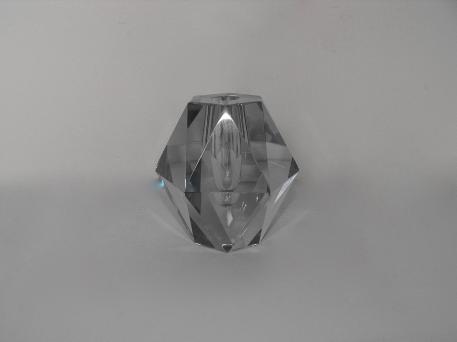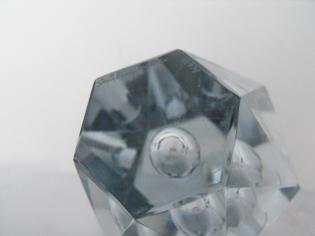 A stunning Diamond Cut bud vase made by Strombergshytnn Sweden. Fully signed to base and becoming extremely hard to find, especially with no damage.

Below are two Nils Landberg Signed Vases. Both from the Dusk range.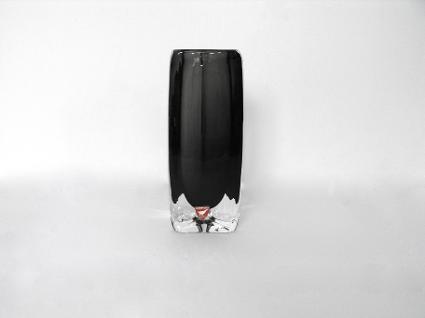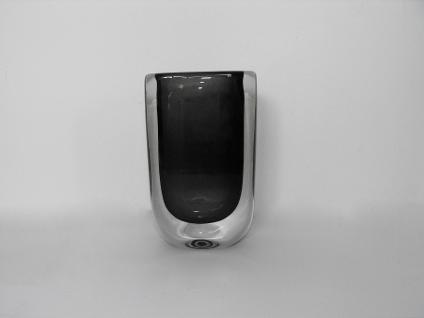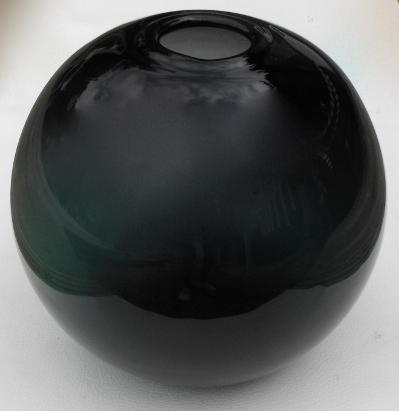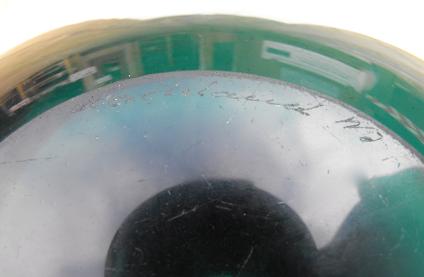 Above and left is a Hadeland Globe designed and produced by Willy Johansson in 1959. This piece is in the green and aubergine colour mix and over 10" in height and 10" in diameter. It is fully signed by Willy Johansson himself to the base.