A Whitefriars Banjo Vase in Indigo. These are very sort after and were only produced in a very limited number. Around 190 of these were produced in Indigo with Tangerine being the largest number produced, over 600 in total. some exceptionally rare ones can be found in Aubergine, 60 total and Flint, 6 total.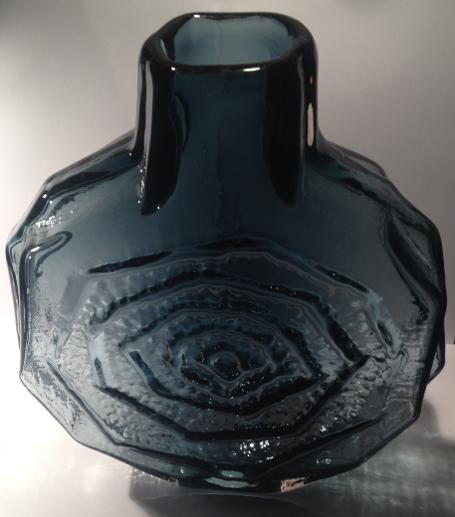 Another example in Kingfisher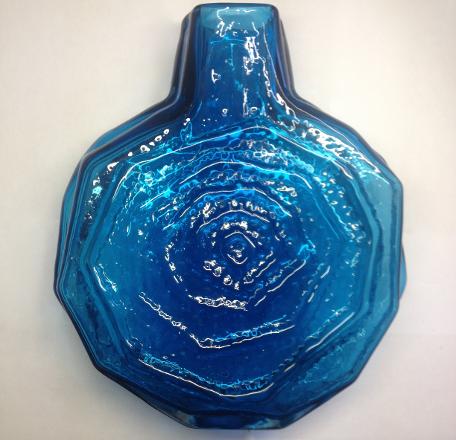 Another example in Cinnamon. The cinnamon example is made from a much larger gather of glass than the Kingfisher. It appears that the early colours all have much thicker walls.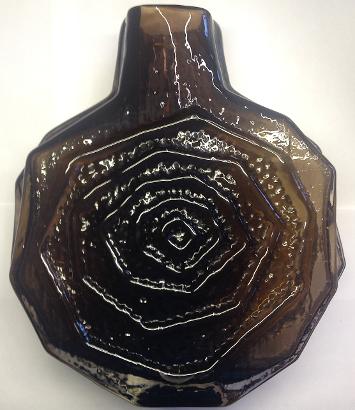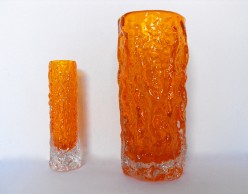 Above: 7.5" Tangerine Bark vase and a Tangerine finger vase both made by Whitefriars and designed by Geoffrey Baxter. (Pattern numbers 9729 and 9690)
Below is a set of Geoffrey Baxters Bark Vases showing the three sizes. Small 6" Medium 7.5" and Large 9"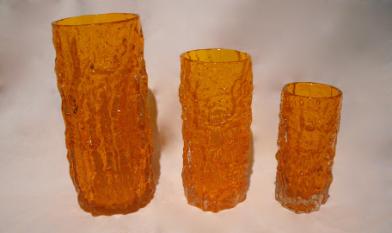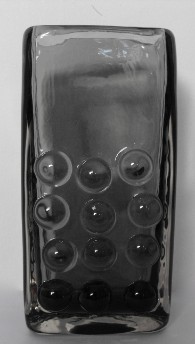 A Whitefriars Mobile Phone Vase designed by Geoffrey Baxter. (Pattern Nos 9670).

Below are a group of 10 different colours which the bark vases were produced. 14 colours were produced altogether. (Pattern Nos 9689).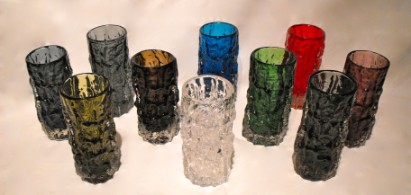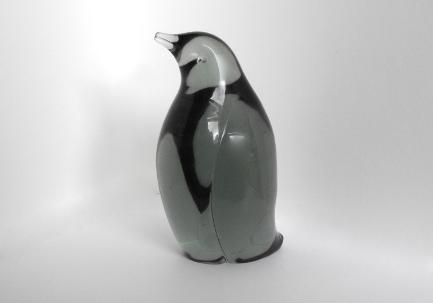 A Vincente Boffo penguin in Ocean Green. These pieces are extremely sort after. Boffo joined Whitefriars in 1969 as a master glassblower and his pieces are extremely popular today.

Five Whitefriars "Tri-Corn" vases. From left colours of Kingfisher blue, Pewter, Royal Blue, Ruby and Meadow Green.

(Pattern Nos 9570)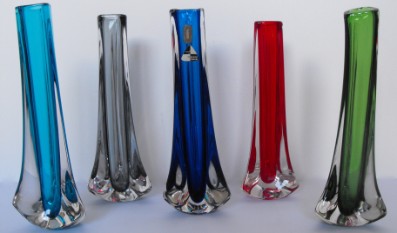 A large Whitefriars bubble lobbed vase in ruby.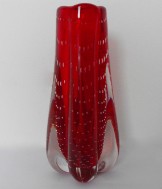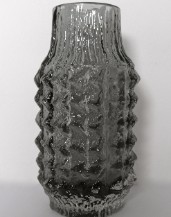 Whitefriars Pineapple vase in Pewter designed by Geoffrey Baxter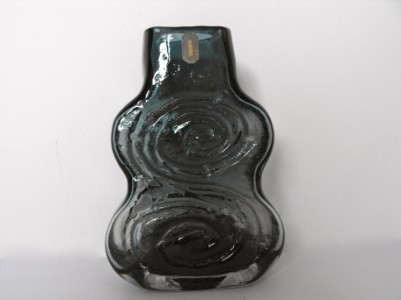 Above: Whitefriars "Cello" vase Designed by Geoffrey Baxter in Indigo
the one below is in Kingfisher blue.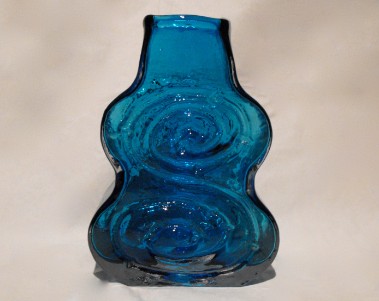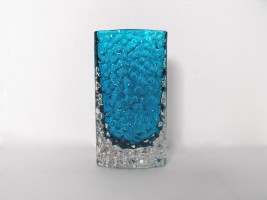 Whitefriars Nailhead pattern vase in kingfisher blue designed by Geoffrey Baxter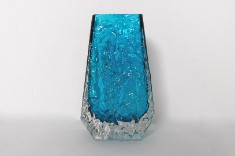 Whitefriars "Kingfisher" blue and "Tangerine" coffin vase designed by Geoffrey Baxter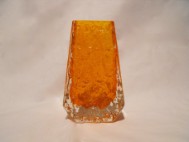 Whitefriars Suncatcher designed by Paul Jeffries. Some of these have a splash of orange in the glass to suggest a flame.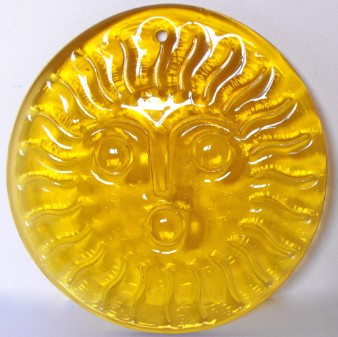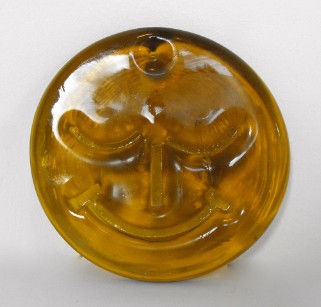 Completely unique Whitefriars Suncatcher with eyes closed. It is believed to be part of a pair with the open eye smiley face but this is reportedly the only one in existence because they never made it past the idea stage.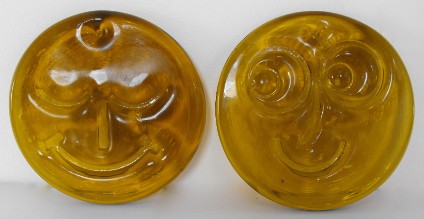 Both the Open and closed eye Suncatchers made by Whitefriars. Possibly to be a series called dusk and dawn. Only a very few were ever made as a trial. They were designed by Alfred Fisher in the stained glass department of the Whitefriars factory. Another smiley open eyes in arctic blue has been discovered and recently sold on eBay.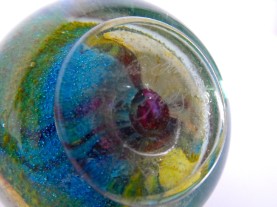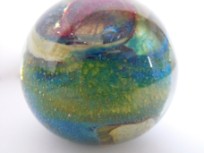 When Michael Harris left Mdina he founded the Isle of Wight glass works. Left is a paperweight produced at the factory. This one is signed by Michael Harris. Finding signed pieces by the man himself is particularly rare as he had the philosophy that his best work would be produced tomorrow. Large pieces with his signature on can be worth huge sums of money depending on style an age.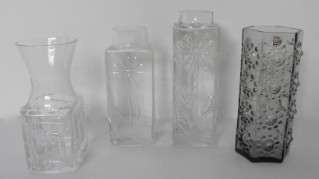 Four Dartington Vases designed by Frank Thrower. From left, Greek Key, Sunflower small, Sunflower Medium and Nipple Vase Smokey.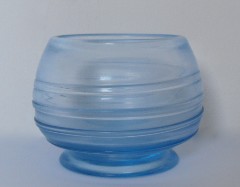 Whitefriars Trailed bowl in Sapphire.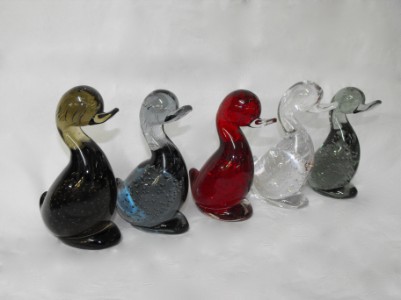 A selection of Whitefriars "Dilly Ducks" in variety of colours. From left Twilight, Arctic Blue, Ruby, Flint and Ocean Green. The ducks are very popular among collectors with some, particularly Sky Blue commanding a very high price.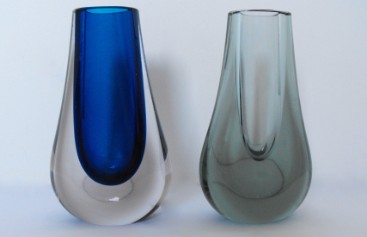 Above are two Hambone vases. Left is in Royal blue and right is in Ocean green. The Ocean green vase has a narrower inner opening. This is because it is an early example with the latter examples having the wider inner opening.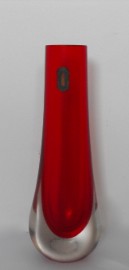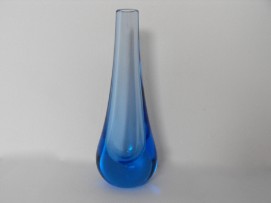 Two Whitefriars teardrop vases. Left is pictured in Ruby and right is the extremely rare Sky blue colour way.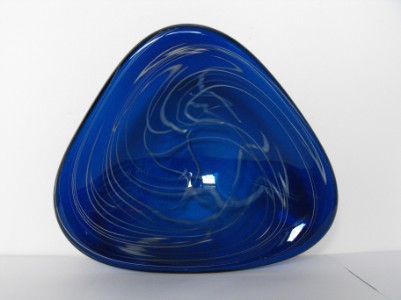 Rare Whitefriars Blue Bowl. The bowl has white ceramic trailing applied to the blue glass. Unfortunatly the white never took properly so the method was abandoned. The same method was also used with white applied to red background. The same problem arose so production was again extremely short lived.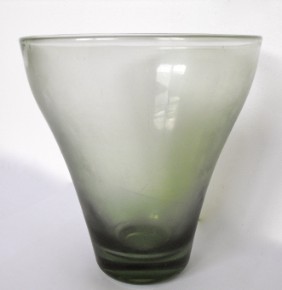 Early Sea Green colour Whitefriars Vase.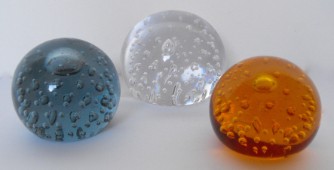 3 Whitefriars paperweights Arctic Blue, Flint and Tangerine.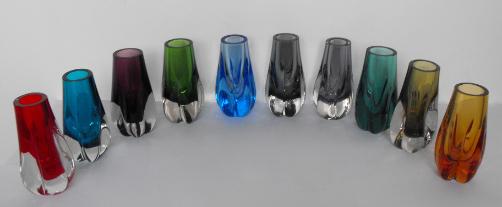 A full set of Whitefriars Lobed vases. Colours from left. Ruby, Kingfisher Blue, Aubergine, Meadow Green, Sky Blue, Pewter, Lilac, Aqua, Sage Green and FLC Gold Amber.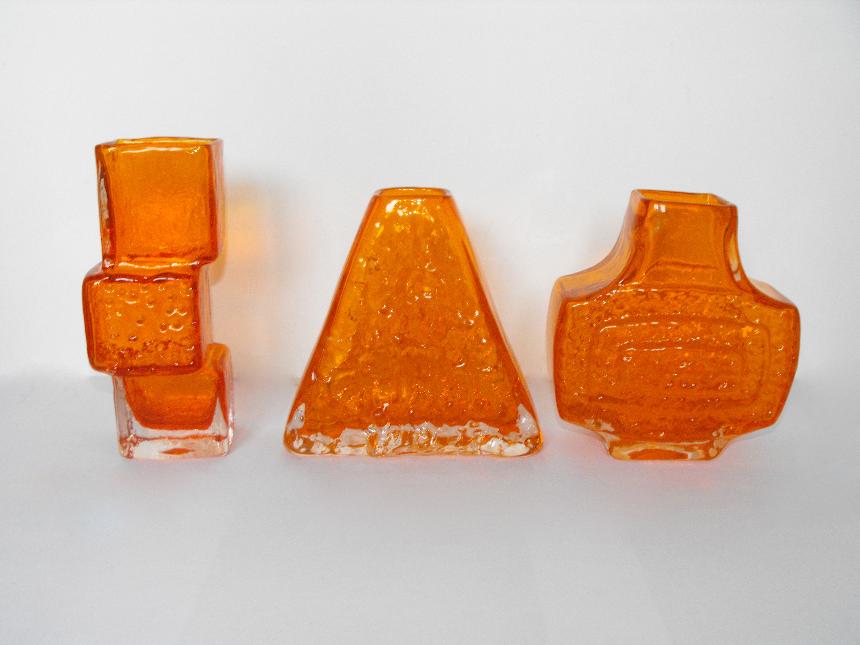 A set of 3 Whitefriars Vases in Tangerine designed by Geoffrey Baxter. From left, Drunken Bricklayer, Pyramid and Concentric Circle Vase or better known as a TV vase.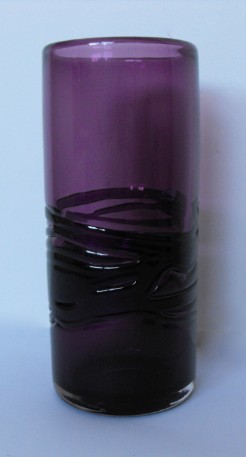 A Whtefriars Random strap vase designed by Geoffrey Baxter. This random strapping effect was created by trailing molten glass onto the vase whilst in production.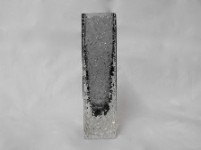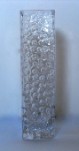 Two Whitefriars Nailhead pattern vases designed by Geoffrey Baxter. Left is in "Pewter" with the one one pictured right being "Flint".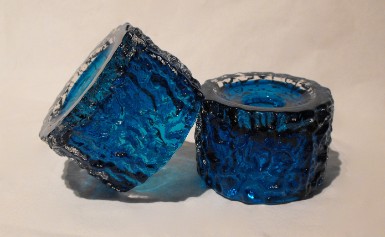 A pair of Whitefriars Kingfisher Blue candle sticks in bark effect pattern.

A set of four Whitefriars owls all in Full Lead Crystal.

Colours from left, "Twilight", "Arctic Blue", "Flint" and "Silver". Also available in Ocean Green.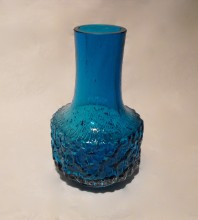 Whitefriars "Kingfisher Blue" "Mallet Vase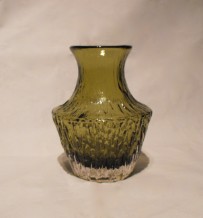 Whitefriars "Sage Green" "Pot Belly" vase.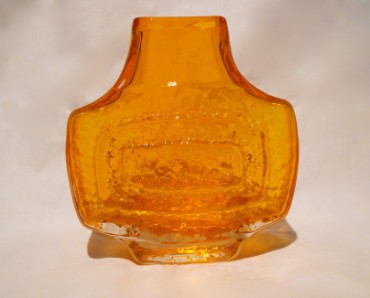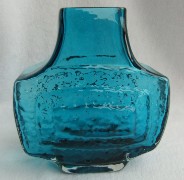 Whitefriars Concentric circle vases, better known as a "TV" vase designed by Geoffrey Baxter in "Tangerine" left and "Kingfisher blue" right. Keen watchers of Saturday morning kitchen on BBC1 may have seen three of the tangerine vesrions behind the chefs.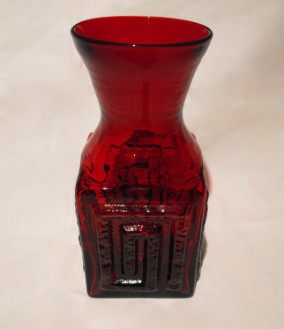 Dartington Frank Thrower designed "Greek Key" Vase. This is the 9.5" oversize version in the rare and highly sort after Flame Red.

Frank Thrower for Daisey Vase in smokey colour. Original production sticker attached.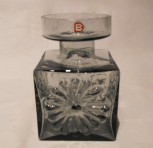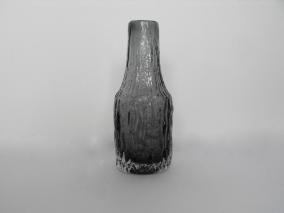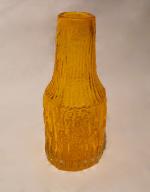 Geoffrey Baxter designed Bottle Vases for Whitefriars in Pewter andTangerine.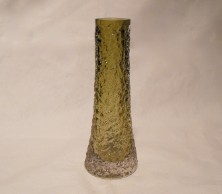 Sage Green Whitefriars Chimney vase in the rarer 8" size.

Whitefriars 10" Gold Lotus Bowl



Whitefriars 10" Pewter Lotus Bowl

Whitefriars Flared Vase with applied Tangerine swirl onto Pewter base colour. Designed by Geoffrey Baxter.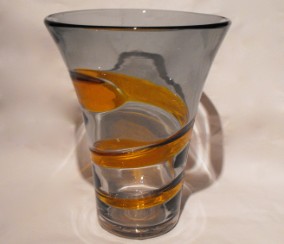 Whtefriars Large molar vase 7" tall and massively heavy. Two tone green flint.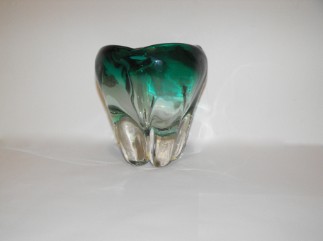 Two different types of Wedgwood candle sticks. Sandringham on the left and Brancaster on the right both designed by Ronald Stennet Wilson.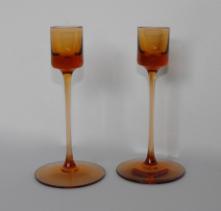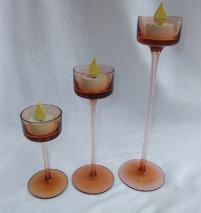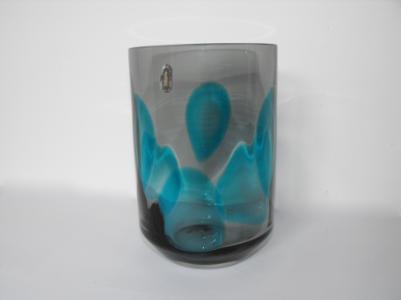 Whitefriars Kingfisher applied to Pewter Bucket vase. Only produced for two years these vases are getting harder and harder to find. Available in two other colour ways. Tangerine on pewter and Meadow Green on Kingfisher.

Whitefriars Kingfisher Blue with applied Meadow Green Swirled single stripe. The Meadow Green almost changes colour depending on the light source direction. At 10" tall it is a fabulous piece.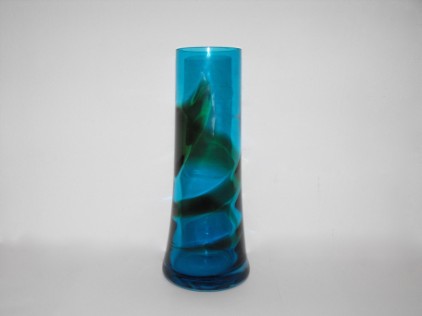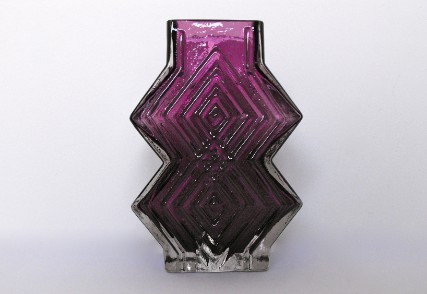 Geoffrey Baxter designed for Whitefriars as part of the textured range Double Diamond Vase. Available in a variety of colours, with the one above being in Aubergine.

Below is an "Arctic Blue" Whitefriars Leg f Lamb vase. Available in Ocean Green as well as Arctic Blue.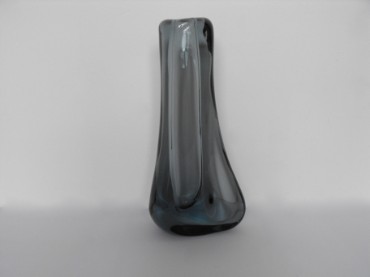 Whitefriars Apple and Pear Paperweights with controlled bubbles inside. Only made for a year and appearing in the 1980 catalogue only. This example is in cased Ruby. Made by Ray Annenberg.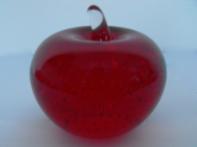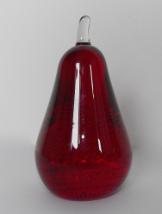 Whitefriars Geoffrey Baxter Volcano vase in Aubergine. Available in a variety of colours. The textured pattern on the outside gives the impression of hot magma bubbling.

3 Whitefriars Cased vases. From left in "Indigo", "Cinnamon" and "Indigo" again.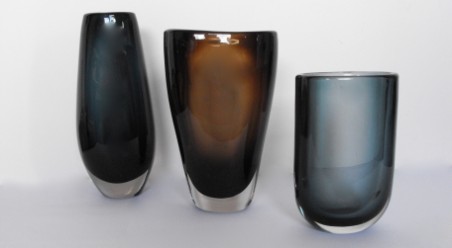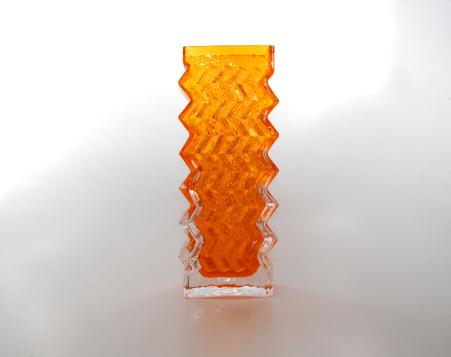 Above is a Whitefriars Tangerine Zig Zag Vase. Designed by Geoffrey Baxter.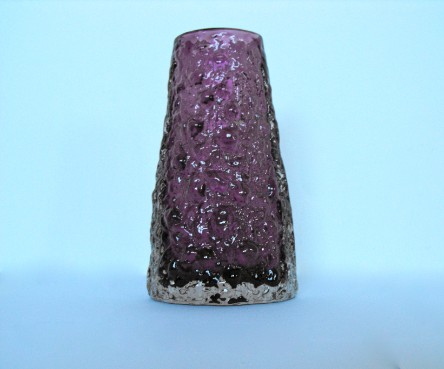 A Whitefriars tangerine sunburst vase designed by Geoffrey Baxter. Available in a variety of colours.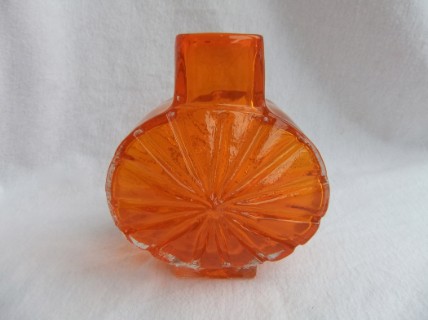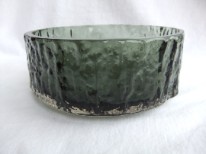 Whitefriars pewter fruit bowl with bark effect texture.

Below are two Whitefriars kingfisher core, controlled bubble paper weights. These are quite difficult to come across. The bubble work which runs through the pieces is fantastic.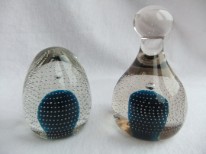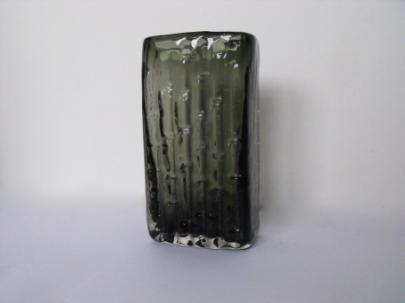 A Whitefriars Bamboo Vase in Willow.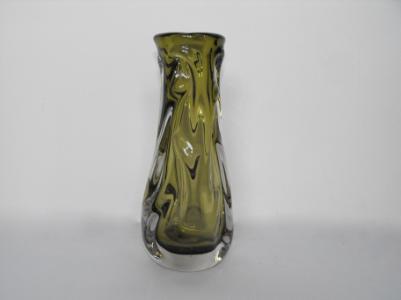 A Sage green 10" Whitefriars Lamp Base Knobbly vase by James Dyre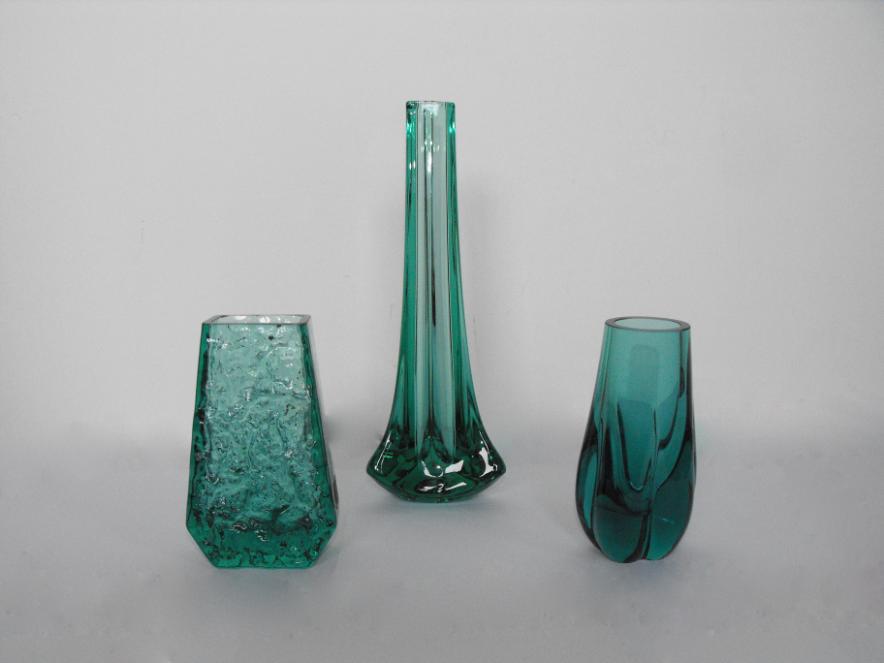 Above is a selection of 3 vases in Whitefriars Full Lead Crystal Aqua colour. A very sort after colour and the second rarest after Sky Blue due to the short period the colour was in general production.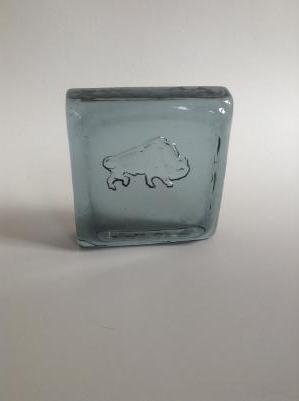 Whitefriars Architectural Slab in Arctic Blue. This is one of only 4 slabs depicting a Bison which are known of.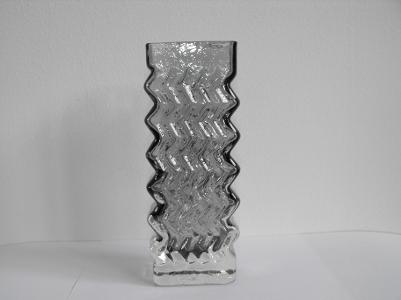 Above is a Pewter example of a Geoffrey Baxter Pewter Zig Zag Vase. It always surprised me how small these vases were.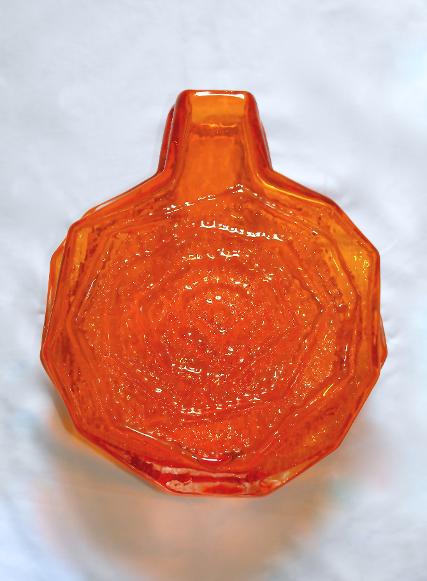 Above is the famous Whitefriars Banjo Vase in Tangerine, designed by Geoffrey Baxter. These were produced in relatively small numbers and are as sort after today as ever before amongst collectors.
Phil Atrill "Distortion" Bottle. Stunning at 20" tall and in Blue Orange colour way. Also produced in Green. Signed to base.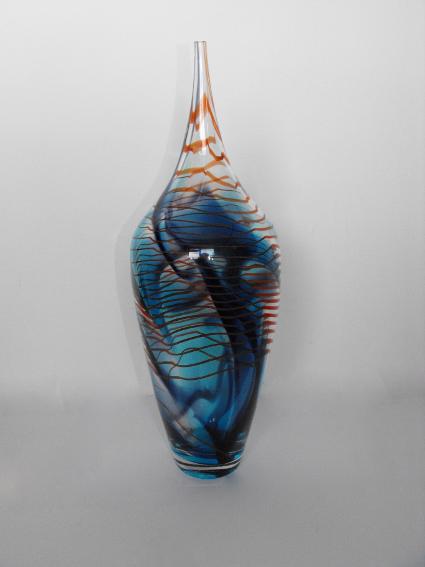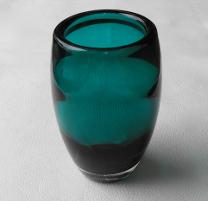 Left is a Whitefriars Optic Ribbed Vase in Green. These vases were available in 3 colours the other two being Ruby and Royal Blue.
Right is a Whitefriars Willow colour Soda Vase. Soda glass vases were available in a variety of shapes and sizes as well as colours. The purple colour being particularly popular.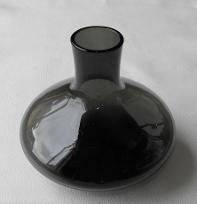 Below is a huge Whitefriars Door Stop in Cinnamon swirl colour. Made in a variety of colours, these are very rare.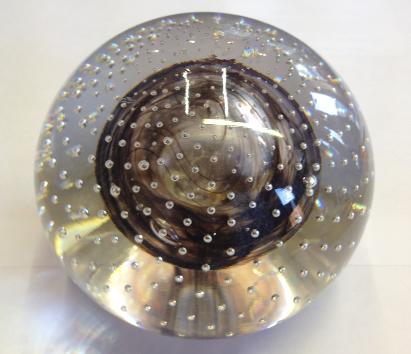 Below is an extremely rare Whitefriars Rocket Vase in a non production colour of Antique Blue. Antique Blue was launched in the same year as the Rocket vase being 1974. This example was probably blown as a trial example.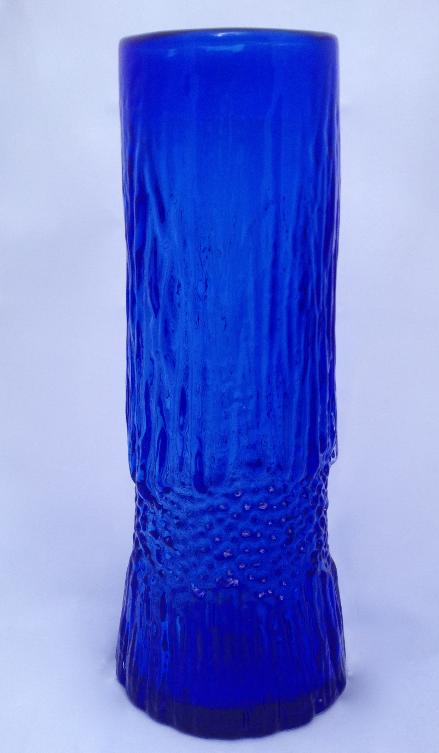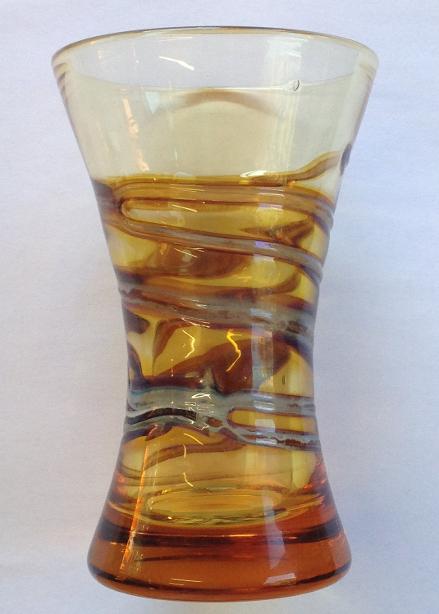 A Whitefriars New Studio Range Silver Chloride Vase. Pattern number 9884. Production pieces in this style were made between 1978 and 1980.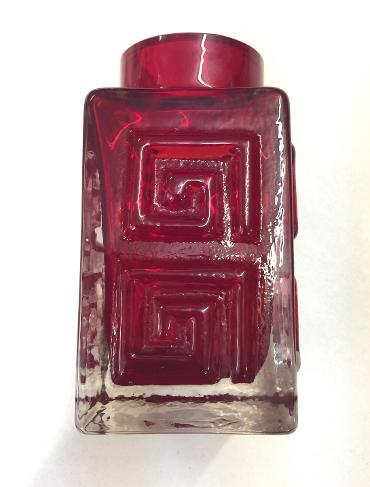 A Whitefriars Greek Key pattern 9815 in ruby. This is the smaller size of this greek key pattern, having only two patterned areas stacked onion top of each other.
Below is a Whitefriars cinnamon "Swung out" vase designed by Geoffrey Baxter. Pattern number 9650 and over 15" tall, these are a wonderful statement piece. They were made in three colours. Willow green, Cinnamon and Indigo blue.